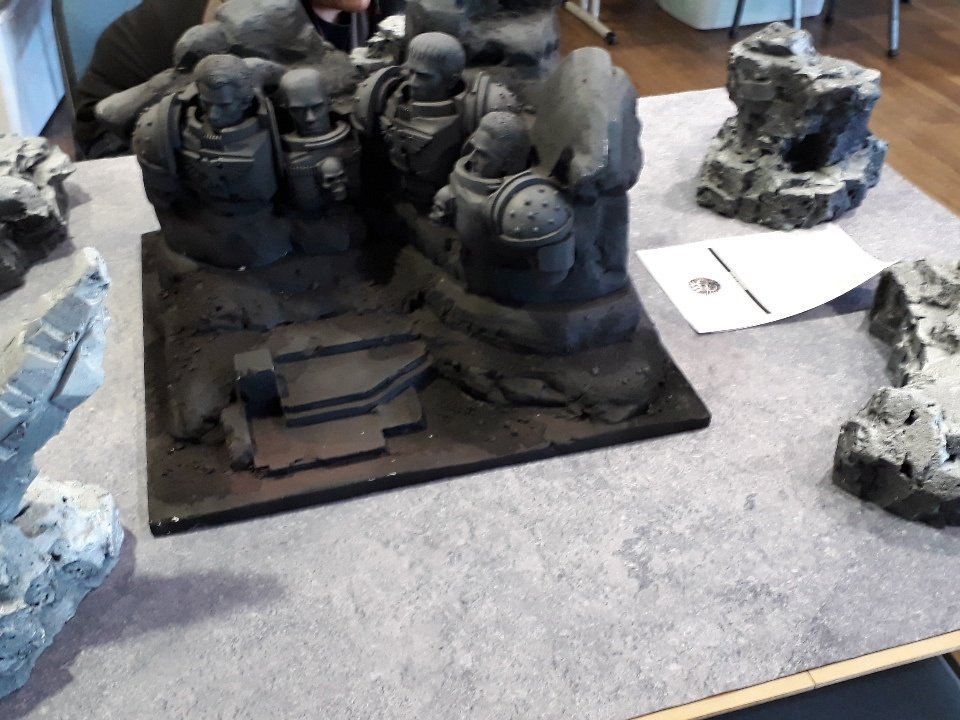 I'm back! For those of you who followed along on Twitter and Facebook, the results are known. For those who did not… I came 5th overall, though with slow play count back I came 4th (winning four and losing one). Lots to talk about and hopefully I will get all the battle reports scheduled before I go (I forgot my camera so all the pictures are mobile phone quality). Brief recap.
The list I used is here. The missions were ITC (sans the Relic).
Terrain was largely pretty good. The ITC ruling for lower floors of ruins blocking LoS though needs to be strongly considered when setting up tables. I love thematic tables – they look great in battle reports and are a pleasure to play on but a table with mass ruins more example can become an unplayable minefield at times. Blocking LoS is great and I am certainly a fan of having more of it but not too much. Terrain still needs to play catch up in general as well – cover was again pretty much a non-factor from the looks across tables (sans those with ruins ;)) with lots of hills / LoS blockers not really doing anything (again – themed tables look great but six giant rocks and nothing else can make for a frustrating time). All in all, this is a issue I think the general community will struggle with for a while – we saw how long 5th took to get LoS blockers going (and accept them in the middle of the table).
That piece of terrain shown above though… no place in a tournament.
Tournament was run much more smoothly I feel than last one as well – times were called out consistently and there was a nice big counter for everyone to check regularly re time left for each round. Most people I think finished without issue though there were a few slow players, one of which came 4th and then was docked points for it. Two of his games finished on T2 which IMO is unacceptable. I don't think his other games finished on time either.
The list itself was solid – much more flexible than the Tau list I ran last tournament and while I am still not a fan of the ITC missions, I was much more able to engage in them with this list. Girlyman is a huge… *insert whatever derogatory term you can here*. He activates the entire army, making units I would not normally consider (i.e. Assbacks) good and units which are decent, great (i.e. Rifledreads). He alone allowed the list to move to midfield and dominate – particularly important against the flyer spam list I played round 3. The list otherwise operated as an escort for Girlyman to pound face in combat when needed (he accounted for two Baneblades, Cawl and two Knights iirc). I will go into detail on the list in another post but not too many tweaks needed. Having to take Mortis dreadnoughts was frustrating when it appears ITC / NOVA is allowing all Index items that are not in the released codex (i.e. Khan on a Bike, Rifledreads, etc.) as I would have preferred two Devastator squads to maximise the Banner. Not sure what I would drop though, particularly given the Rifledreads were regularly the shooting MVPs. I think taking Tiggy would be very advantageous – psychic defense is important but also being able to throw around his Master of Prescience ability would be gold at times. The stratagems rarely came into play, though having 10 CP and getting them back on a 5+ made me use them a lot more vigorously – I even used Orbital Bombardment once!
Speaking of ITC – I will reiterate my dislike for the concept of battle points, etc. Winning round 4 and then losing round 5 and dropping behind the player you won in round 4 is frustrating in terms of overall placement; I still prefer the bracket type system of NOVA but no idea if this can be incorporated into the app ITC uses. Anyone know? Just a bugbear of mine.
Another bugbear is TOs playing in the tournament and winning prizes. I personally do not think TOs should play in tournaments they run (as much as I would love to play in 3++con) just in terms of potential observation bias but can understand we are all gamers and want to throw down on the tabletop. If I did succumb to that urge, I would definitely pass myself over for prizes though.
Anyway, all in all, a great tournament. Really fun opponents and learning curve continues (I find the loses help so much more than the wins). As we go through the battle reports, we will reflect back often on my first SM Mech game and what unfolded there. Summary of each game below.
Round 1 vs AdMech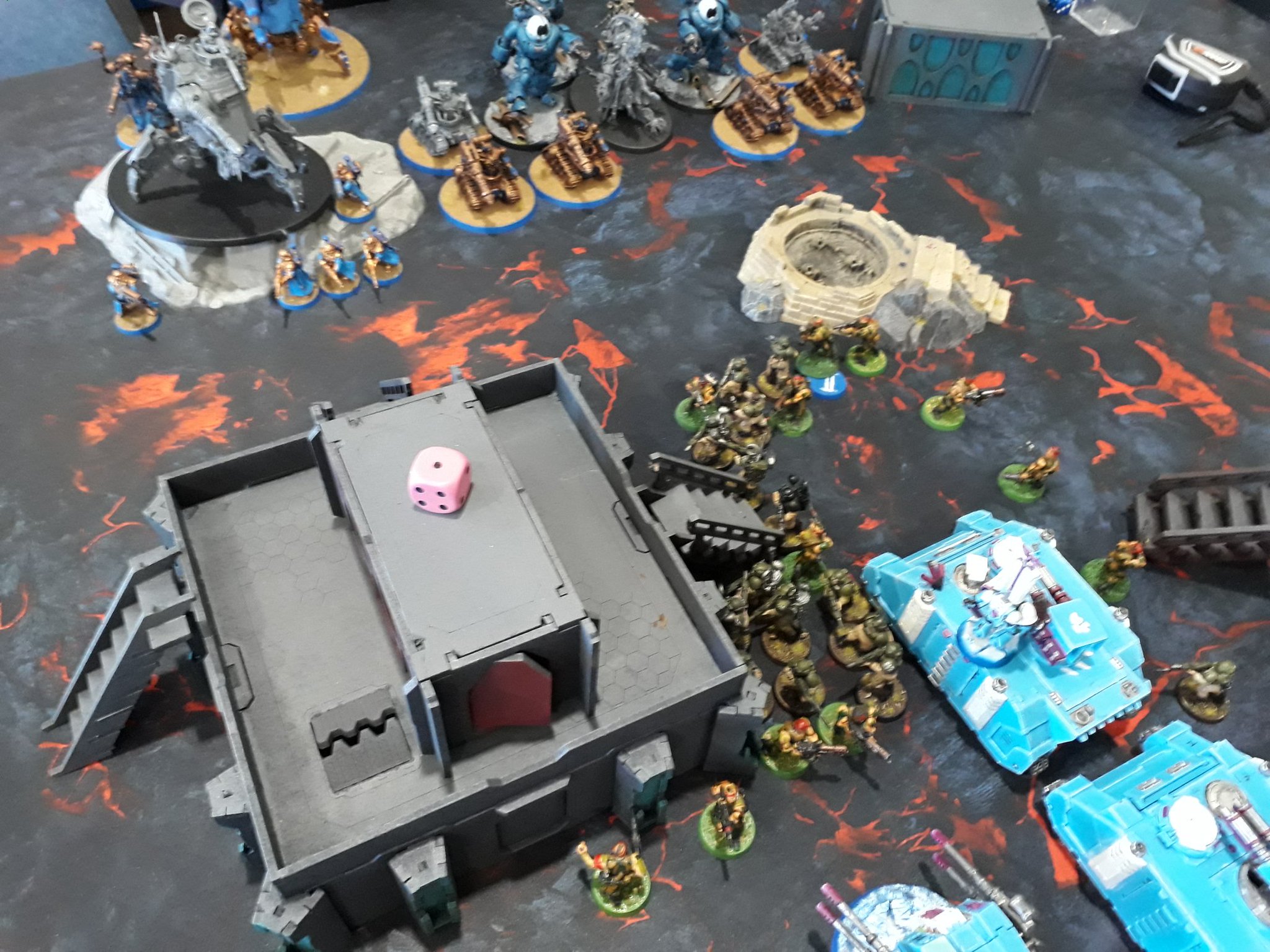 Opponent was unfortunately very new to the game I learned afterwards and played in a very static manner. I could have pushed more aggressively which was a good reminder later in the tournament but basically was able to shoot him off the board and push into midfield to hold objectives and keep well ahead on Maelstrom.
Round 2 vs Astra Militarum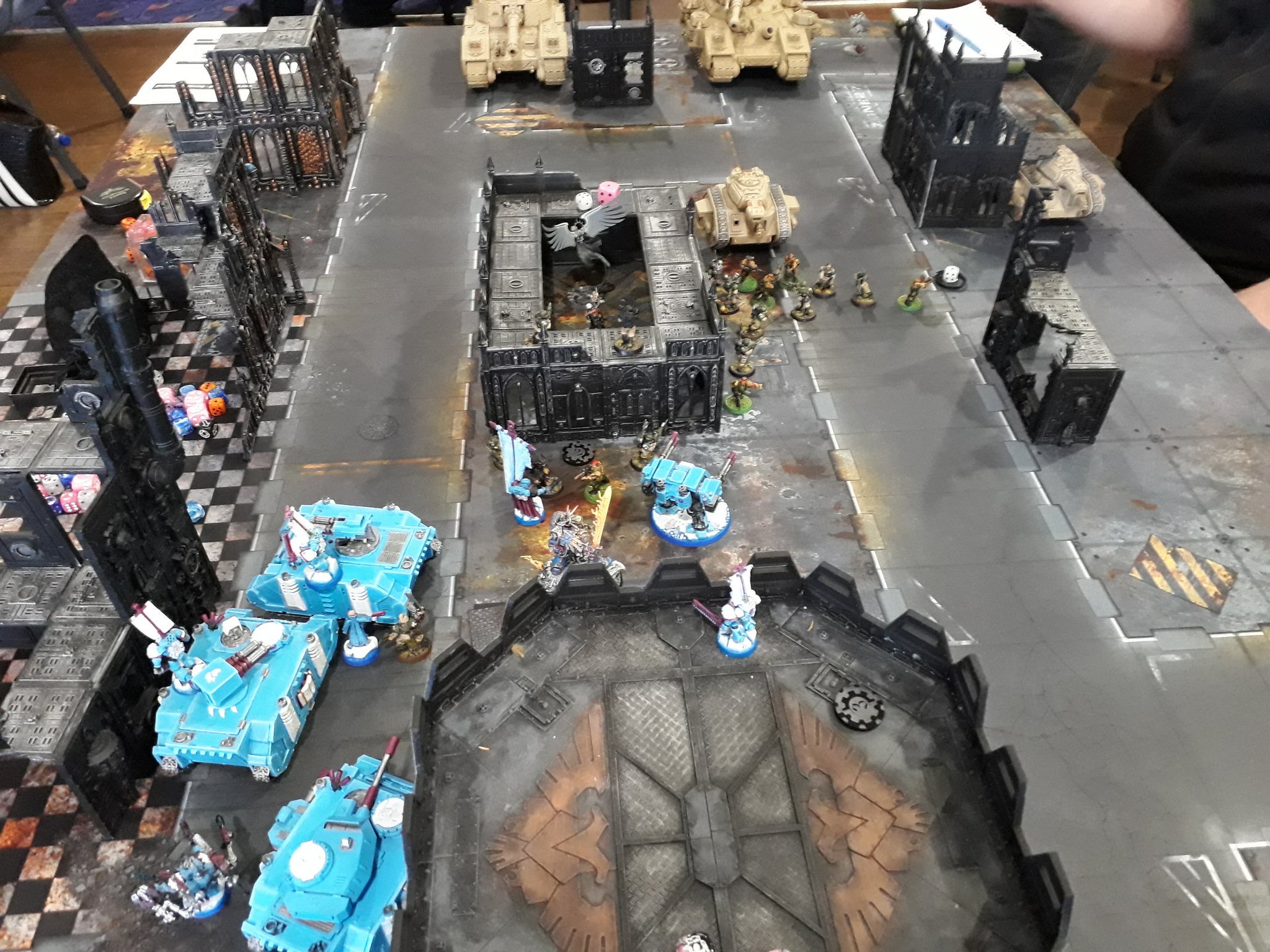 Two Baneblade variants, three Russes and Celestine. I was not looking forward to going into this match and we were playing a long wise deployment. Initially thought we were playing Relic which would have been awesome but ended up being an objective mission. Nonetheless, the Shadowsword shooting was horrendous and I was able to keep Chronus alive throughout the game so he was able to take down the Russes (with support) and kill Celestine twice. I then held my backfield while Girlyman used his butter knife to slice open both Baneblades. Was close in the middle but the gap stretched as the game went on.
Round 3 vs Elysians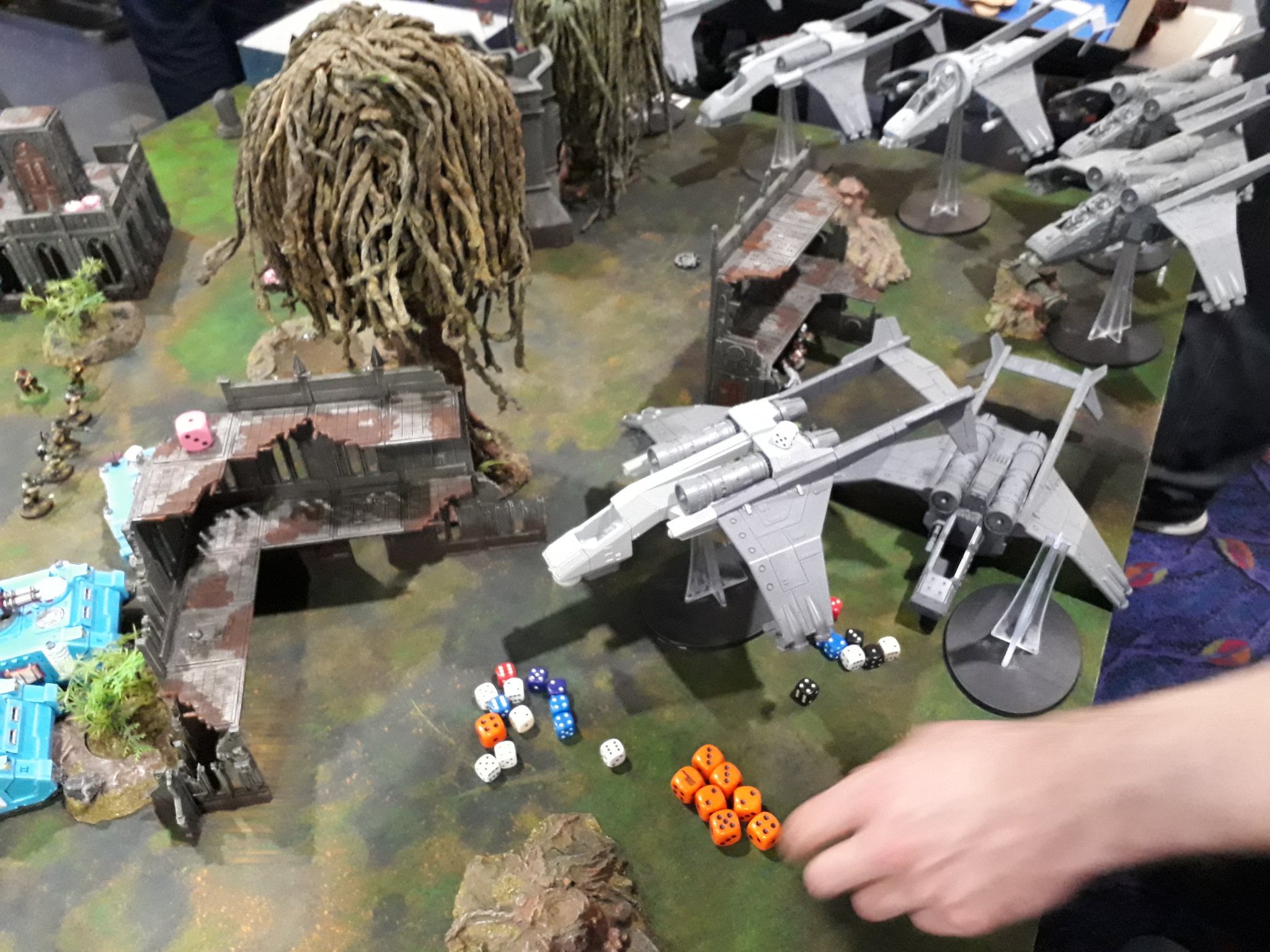 Flyer spam is real! Unfortunately the Elysians were not painted so the battle report will not look as pretty as it should but there were a lot of flyers around. Girlyman really helped here to allow lots of re-rolls and the flyers themselves did not have much damage capacity against my vehicles with mostly single D weapons. Targeted the ones with multi-D weapons first and there was a quick firepower disparity. Nearly won first turn with Eversor clearing 9 of the 11 infantry available on the table – alas. Game ended with concession on T5/T6 when he had 1 infantry and 2 flyers left.
Round 4 vs Renegade Knights / Magnus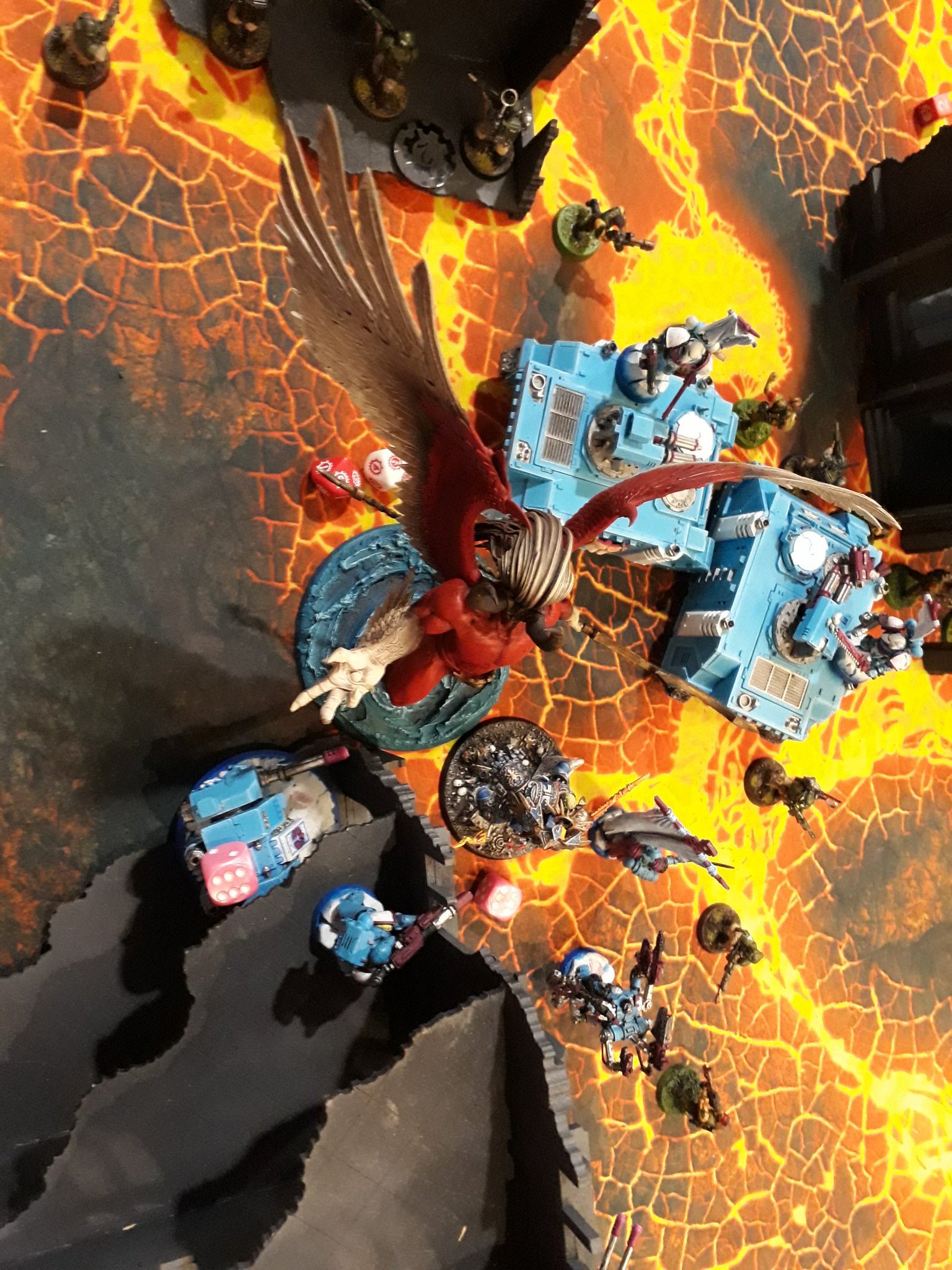 There were some key errors on both sides – mine being Magnus moves 16″ not 12″ which meant with Warptime he could fly over my bubble and into Girlyman and his being casting Smite as his third power (and not no invuls). The result? Girlyman survived, stepped back and the entire army killed shot Magnus to death. This was huge as the Knights were playing the shoot from far away game rather than coming at me aggressively. Girlyman is scary in combat but he can only be in one place at a time and not putting all four of them in my face meant I could deal with Magnus and then each Knight one at a time. My shooting let me down and I ended up having to play a game of hiding until the Knights came forward but by that point I was so far ahead in Maelstrom and having so many more units to take Scouring objectives, the game was over. Girlyman ended up killing the final two Knights in combat though for a tabling.
Round 5 vs Ynnari ("Harlequins")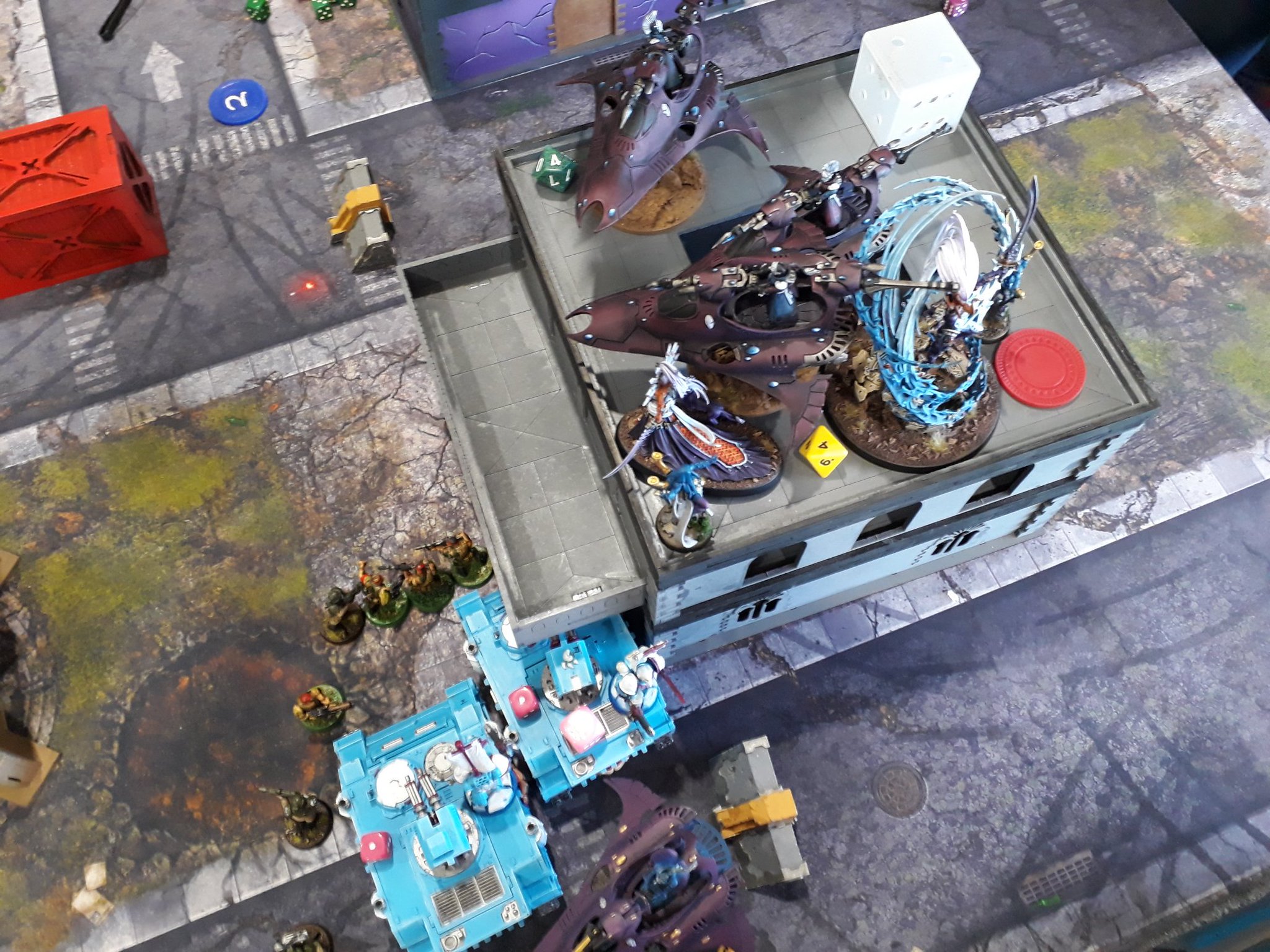 This was my first game against Ynnari given I did not play them in 7th edition and it showed. I made many fundamental errors just in terms of normal gameplay including:
I was given first turn and my shooting options were limited, I should have just rolled with that rather than expose myself to shooting and charges;
I forgot vehicles can charge and most of my firepower was locked up;
I had poor target priority against Ynnari and basically gave lots of free Soulbursts;
I did not save my re-roll to get Girlyman up (though the difference would have been negligible).
All in all – a recipe for disaster and I played right into my opponent's hands (who filmed the game, so hopefully when my bat rep is up can link you to that). I would be confident going into that list, on the table, with that mission again if we played right now but that is the advantage of losing and learning.
---
So finished 4-1, ironically all my games ended in near tablings but particularly through the early turns from Round 2 onwards, the games were nip and tuck but the swiss army knife ability of the list+ Girlyman (mostly Girlyman) meant that I was able to plough ahead as the game advanced.
Had a lot of fun and look out for the final 4 bat reps of Wintercon and these 5 over the next few weeks :).